| | |
| --- | --- |
| | Kettering Concerts |
Kettering Concert 2017-10-22
Huon Quartet
Elinor Lea (Violin), Rohana OMalley (Violin), Jane Tallon (Cello), Anna Larsen Roach (Viola)
String Quartet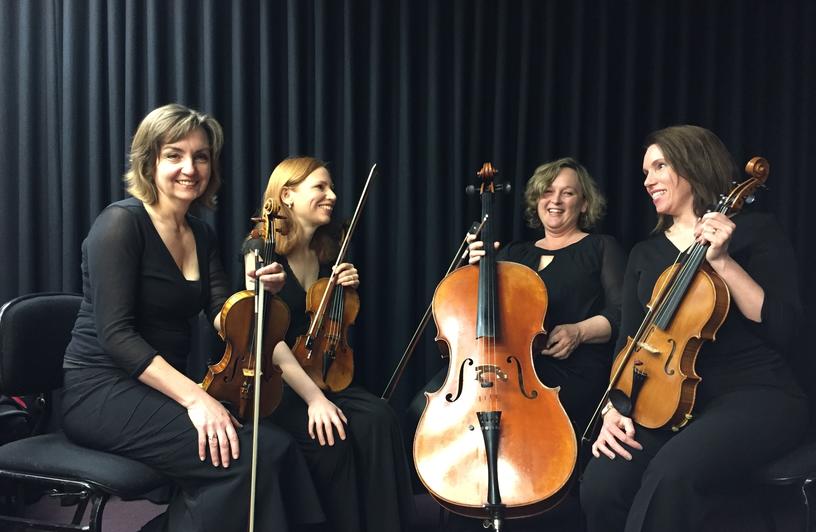 Programme:
String Quartet Op. 44 No. 2 in E minor – Felix Mendelssohn (1809-1847)
String Quartet No. 4, Op. 18 in C minor – Ludwig van Beethoven (1770-1827)
Sunday 22 October 2017, 3pm
Kettering Community Hall
Tickets available at door $15.00
Stay for the post-concert afternoon tea, meet and chat with the musicians.

Elinor Lea
Elinor Lea is the Associate Concertmaster of the Tasmanian Symphony Orchestra and has held this position for 15 years. At the age of 19, while studying at Adelaide University, she joined the Australian String Quartet and played with them for 9 years, touring extensively within Australia and annually to Europe, the USA and Canada. While in the ASQ she recorded many CDs for the ABC Classics and Naxos labels. 
 Since moving to Tasmania she has been soloist and concertmaster for the TSO, teaching privately and raising a family.
Rohana OMalley
Rohana O'Malley (née Brown) comes from Melbourne where she began playing violin and piano at an early age. She moved to Hobart in August 2009 to jointhe TSO. Rohana completed her Bachelor of Music at the University of Melbourne, studying with Bill Hennessy. She then went on to study further at the Australian National Academy of Music with Alice Waten. While at ANAM, Rohana also received tuition from visiting artists Felix Andrievsky, Boris Kuschnir and Oleh Krysa, and performed in masterclasses with the Borodin, Artemis, St. Lawrence, Jerusalem and Henschel String Quartets.
In July 2009 Rohana travelled to Salzburg to participate in the Mozarteum International Summer Academy, where she had lessons from violinist Liana Issakadze. Rohana has had casual employment with the Melbourne Symphony Orchestra and the Sydney Symphony Orchestra. She had a year-long Fellowship with the Sydney Symphony during 2008. Rohana was a member of the Australian Youth Orchestra for four years. With the orchestra she toured in Europe and was concertmaster for two seasons. As a solo player Rohana has won prizes at the Gisborne International Music Competition in New Zealand and the Hephzibah Menuhin Memorial Awards in Melbourne.
Jane Tallon
Jane Tallon has been involved in music education and performance in Australia for the past 20 years. Jane studied with Gary Williams, Nelson Cooke and in Croatia with renowned teacher Valter Despalj and has worked as a soloist and chamber musician with various ensembles throughout Australia and overseas. A founding member of Melbourne chamber ensemble, the Bach Project, Jane's arrangement of Bach's iconic work, the 'Goldberg' variations was performed to acclaim by the Bach Project at the Barossa International Festival of Music. Jane also reviews and writes articles for the Music Council of Australia's Music Forum magazine.
Passionate about the performance and teaching of chamber music; Jane was co-ordinator of Chamber Music and Lecturer at the VCA School of Music, now the Melbourne Conservatorium of Music, Melbourne University from 2001 -2011 and in that time initiated chamber music series at 45 Downstairs and the National Gallery of Victoria, as well as being musical advisor for the Picasso Exhibition at the National Gallery of Victoria.
Now living in Hobart, Jane has most recently directed Brahms – Love, Life, Letters at the Hobart Town Hall; worked with the Tasmanian Symphony Orchestra and performed with Virtuosi Tasmania and Opus House. Jane is a founding member of the Huon String Quartet.
Pam Adams – Artist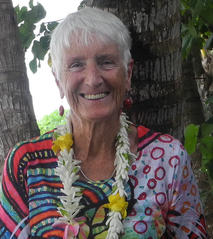 Pam Adams has been painting for just over fifteen years after 30 years of teaching Geography which gave her an understanding and love of landscape. Pam works in watercolour as she thinks the soft light and gentle colours of Tasmania's landscape are best reflected in that medium. She has taken part in many exhibitions both as a group and solo participant and I won the En Plein Air prize in 2004 in the Huon Art Exhibition Group competition. She has won prizes in the 2014 and 2015 Kingborough (Lions) exhibitions. She paints regularly with a group as well as being an active member of the Tasmanian Art Society, a member of HAEG and of the Colour Circle and an invited member of the Tasmanian Art Group. While watercolour is a challenging and often unpredictable medium Pam relishes the journey she is on!


---