| | |
| --- | --- |
| | Kettering Concerts |
Kettering Concert 2014-10-19
Nuove Musiche Ensemble
Susan King (flute), Brett Rutherford (viola da gamba), Helen Thomson (soprano), Matthew Goddard (percussion), Gary Files (reader)
Time Stands Still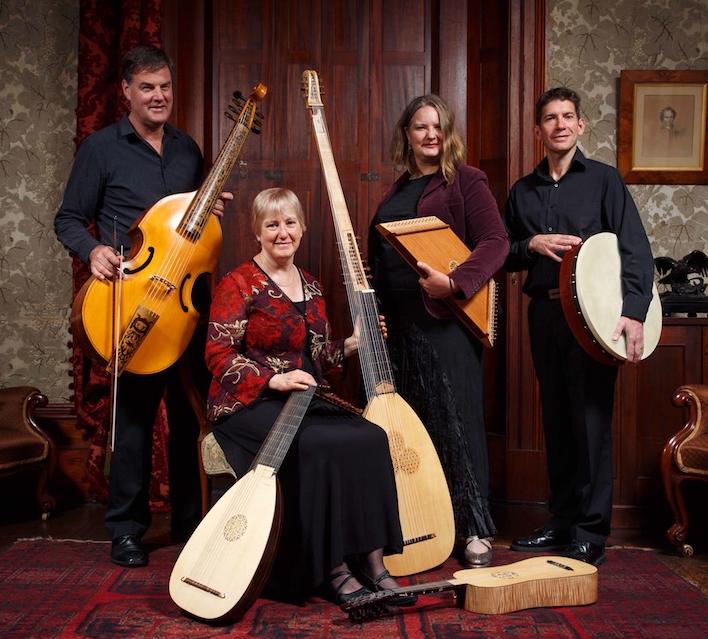 Programme:
What Thing is Love?
Dowland – John Dowland (1563-1626)
What Thing is Love? – George Peele (1556-1596)
With my Love my Life was Nestled – Thomas Morley (c1558-1602)
Love's Journey
The Passionate Shepherd to his Love – Christopher Marlowe
It was a Lover and his Lass – Thomas Morley (c1558-1602)
The Nimph – Sir Walter Raleigh (1554-1618)
Come Let us Kiss and Part – Michael Drayton (1563-1631)
Flow my Tears – John Dowland (1563-1626)
Come Again – John Dowland (1563-1626)
Earthly Delights and Misdemeanors
A new Courtly Sonet – anon.
Lute solo – anon. (16th century)
A Counterblast to Tobacco – King James VI of Scotland (1566-1625)
Tobacco – Tobias Hume (1569-1645)
The Passion of a Discontented Mind – Robert Devereux (1565-1601)
Shall I Go Walk the Woods So Wild – anon.
Will Yow Walke the Woods Soe Wylde – anon. (16th century)
Can She Excuse my Wrongs – John Dowland (1563-1626)
The Passing of Time
Shall I Compare Thee to a Summer's Day? – William Shakespeare (1564-1616)
Time Stands Still – John Dowland (1563-1626)
Frog Galliard/Now O Now I Needs Must Part – John Dowland (1563-1626)
P.S. I Love You
The Good Morrow – John Donne; Helen Thomson
Sunday 19 October 2014, 3pm
Kettering Community Hall
Tickets available at the door $10
Stay for the post-concert afternoon tea, meet and chat with the musicians.

Susan King
Susan King initially studied lute at the Sydney University Conservatorium of Music, later on furthering her study with Jakob Lindberg, Claire Antonini, Hopkinson Smith and Nigel North. After living in Europe Susan returned to the beautiful island of Tasmania in December 2011. She frequently travels Australia, New Zealand and overseas giving concerts. Susan first formed Nuove Musiche Ensemble in November 1986 while a student at the Sydney Conservatorium. Over a period of 4 years the group gave many concerts, radio broadcasts and recorded a CD. In 2012 Susan re-formed Nuove Musiche Ensemble in Hobart, Tasmania. Susan's website is www.susanjking.com
Brett Rutherford
Brett Rutherford began his study of the cello at the N.S.W. conservatorium of Music with John Painter and then later with Barbara Woolley for more extensive study. In 1981 Brett joined the Sydney Elizabethan Orchestra (now AOBO). In 1984 Brett with his wife Janet travelled to London to spend a year of study. During this time Brett studied with Alexander Baillie and William Pleeth. On returning to Australia, Brett joined the Tasmanian Symphony Orchestra.
Since then Brett has also played with Tasmanian Symphony Chamber Players, Virtuosi Tasmania, and, with the Trigon Ensemble, has performed for ABC-FM and ABC television, as well as concerts around Australia. Brett retired from the TSO in 2017 but continues a busy teaching and chamber music schedule. Brett is a founding member of The Kettering Piano Quartet and also plays the viola da gamba in the early music group, Sequenza.

Helen Thomson
Helen Thomson, whose singing was described by Limelight magazine as "exquisite, near-flawless performances" has worked internationally as a performer, composer, sound designer and musical director. In Australia, she has performed with the Song Company and e21, and, during an eight year stint in Europe, with Amsterdam Baroque Orchestra and Choir, the Netherlands Bach Society, the Egidius College, the Netherlands Radio Choir, Trigon, Musica Poetica and Musica Universalis. Since her return to Australia in 2011, Helen has continued her busy singing career with many performances, TV and radio appearances, while still finding time to direct two local choirs. Helen's website is http://qvocal.wordpress.com/
Matthew Goddard
Matthew Goddard was born and bred in Hobart where he started his musical life as a drummer before moving to Melbourne where he studied percussion and timpani at the Victorian College of the Arts. He worked regularly with the Melbourne Symphony and was a founding member of the percussion quartet Woof! In 1998 Matt worked in Japan as Guest Timpanist and Percussionist with the Orchestra Ensemble Kanazawa before returning to Tasmania in 1999 to take up his current position as Principal Timpanist with the Tasmanian Symphony Orchestra. He also performs with Tracey Patten in the percussion duo, MATTRA.


---