| | |
| --- | --- |
| | Kettering Concerts |
Kettering Concert 2015-03-22
The Tasmanian Guitar Trio
Oliver Marshall (guitar), Darcy O'Malley (guitar), Gareth Koch (guitar)
Guitar classics arranged by Gareth Koch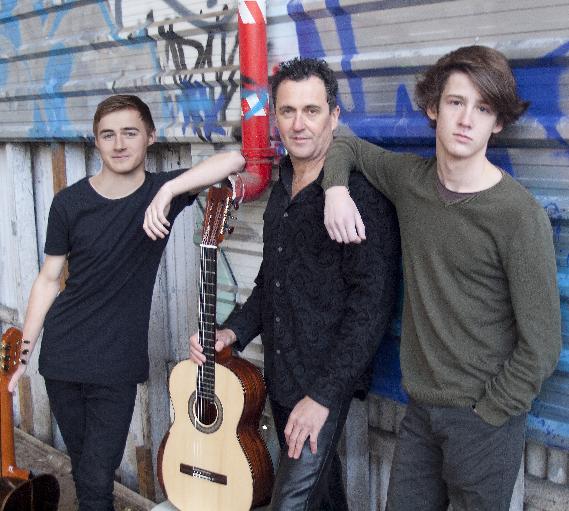 Programme:
Keppel's Delight – anon. cir. 1780
Dance of the Angel (Milonga) – Astor Pantaleón Piazolla (1921-1992)
Branle de l'Official – Jehan Tabourot (1519-1595)
God Rest Ye Merry Gentlemen – trad. (cir. 1780)
She Moved Through the Fair – Celtic trad.
Douce Dame Jolie – Guillaume de Machaut (c1300-1377)
Canario (From Libro Quatro d'Intavolatura di Chitaronne, 1640) – Giovanni Girolamo Kapsberger (c1580-1651)
The Last Minstrel (Homage to John Renbourne) – Gareth Koch (1962-)
The Hags of Gloucester – Gareth Koch (1962-)
Suscepit Israel (From the Magnificat BWV 243) – Johann Sebastian Bach (1685-1750)
Norwegian Wood – John Winston Ono Lennon (1940-1980) – Sir James Paul McCartney (1942-)
Pastorale (From Christmas Concerto no. 6) – Arcangelo Corelli (1653-1713)
Classical Gas – Mason Douglas Williams (1938-)
Veni, Veni Emmanuel (French Song cir. 12thC) – anon.
Little Drummer Boy – Katherine Kennicott Davis (1892-1980)
Adeste Fidelis – John Francis Wade (1711-1786)
Country Gardens – George Percy Aldridge Grainger (1882-1961)
Sunday 22 March 2015, 3pm
Kettering Community Hall
Tickets available at the door $20
Stay for the post-concert afternoon tea, meet and chat with the musicians.

The Tasmanian Guitar Trio
The Tasmanian Guitar Trio is the flagship ensemble of the Tasmanian Guitar Studio, directed by ARIA Award Winner Gareth Koch.
Gareth is a graduate of the Sydney Conservatorium of Music, the Royal Madrid Conservatorium and the prestigious Academy of Music in Vienna. He holds Bachelor Degrees, Diplomas and a Doctorate in Music. He has recorded multiple best-selling CDs for ABC Classics, with over 30 years experience lecturing, recording and performing throughout Europe, Northern America, Asia and Australia.
Comprising the versatile talents of Darcy O'Malley and Oliver Marshall, both senior students within Gareth's teaching studio, the Tasmanian Guitar Trio continues to enthral audiences through radio broadcasts and performances. Darcy is an accomplished classical trumpeter and blues guitarist, while Oliver is active as an electric guitarist and bassist within the contemporary music genre.
The Tasmanian Guitar Trio is characterised by a sense of spontaneity, bold exploration across musical boundaries and its signature sound. The trio performs on classical and flamenco guitars.
---