| | |
| --- | --- |
| | Kettering Concerts |
Kettering Concert 2021-11-14
Chrysantha Quartet
Yue-hong Cha (violin), Frances Davies (violin), Janet Rutherford (viola), Brett Rutherford (cello)
String quartets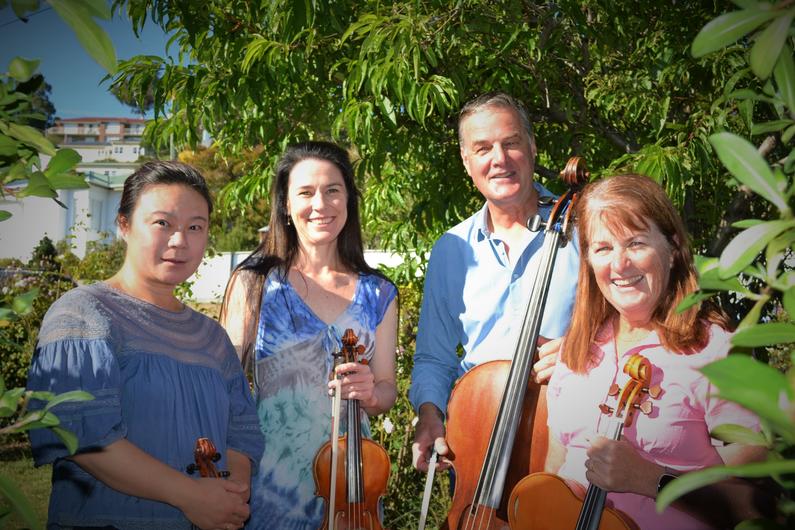 Programme:
String Quartet No. 17 in B flat major, K.458 – The Hunt – Wolfgang A. Mozart (1756-1791)
String Quartet No 2 in D major – Alexander Borodin (1833-1887)
Sunday 14 November 2021, 3pm
Kettering Community Hall
Tickets only available on-line $15 plus small transaction fee

Chrysantha Quartet
String Quartet formed 2021. Yue-Hong Cha (1st violin), Frances Davies (2nd violin), Janet Rutherford (viola), Brett Rutherford (cello).

Yue-hong Cha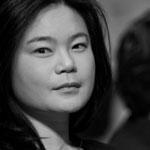 Yue-hong Cha started to play violin at the age of six. She entered the Shanghai Primary School of music when she was ten. Between the ages of thirteen to sixteen she won several national awards and scholarship at Shanghai Conservatory of Music. At the age of nineteen she won the first violin position in the Shanghai Symphony Orchestra as its youngest member. During the next three years she performed many solo's and chamber music concerts for weekend chamber music events and Sunday radio concert programmes.
In 1997, she came to Australia to continue her studies on scholarship under violin professor Peter Zhang and Charmian Gadd. In 2002 she completed a 4-year Bachelor of Music degree and 2-year master of music degree with honours on a scholarship. During her six years study she was a regular player with Sydney Symphony Orchestra and Australia Opera and Ballet Orchestra. In 2002 she won auditions at both the Tasmania Symphony Orchestra and Adelaide Symphony Orchestra. She chose to accept the position in Hobart. In 2004 she also won the audition of section leader in Orchestra Victoria. During her time in Tasmania Yue-hong has been active in chamber music concerts with various ensembles for Sunday Live concert programmes.

Frances Davies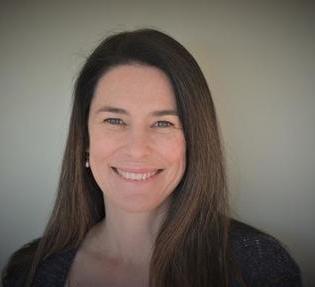 Frances Davies has a Bachelor of Music in Performance from ANU-ITA, and she both performs and teaches the violin professionally. She has been performing with professional symphony orchestras since 2000, including the Tasmanian Symphony Orchestra, the Adelaide Symphony Orchestra, and the West Australian Symphony Orchestra, and has also performed regularly with the Australian Ballet and State Opera South Australia. Further, she has performed with various international artists, both classical and popular music, including Pavarotti, Sumi Jo, Michael Buble, Olivia Newton John, Cliff Richard, Kanye West and Tim Minchin. In addition, she has also performed in numerous chamber music concerts run by Virtuosi Tasmania, and the TSO Live Sessions concert series. Frances has been teaching the violin for approximately 25 years, as well as tutoring for many youth orchestra ensembles and music camps.

Janet Rutherford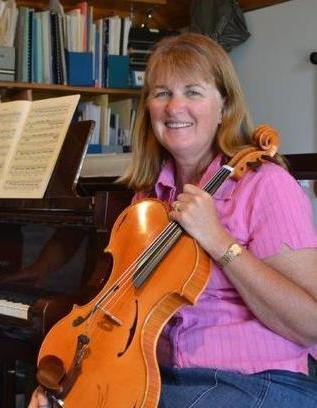 Janet Rutherford (nee Gilby), originally from Canberra, completed her Bachelor of Music degree at the Elder Conservatorium of Music at the University of Adelaide in 1980 and an Honours year in 1981 studying with Simon Rowland-Jones. She was then appointed to the viola section of the Australian Opera and Ballet Orchestra (AOBO) in Sydney. After another year of study with Rowland-Jones, this time in London, she was appointed Associate – Principal Viola of the AOBO. In 1987 Janet was appointed Principal Viola of the Tasmanian Symphony Orchestra. She has appeared as soloist with the orchestra, including on CD - Richard Mills' Concerto for Violin and Viola, and Waltz for Betz, and was also a member of the Tasmanian Symphony Chamber Players and the Trigon Ensemble(string trio).
In 2005 Janet performed the Bartok Viola concerto with the Melbourne Sinfonia in Melba Hall. Janet retired from the TSO at the end of 2015 but continues to enjoy teaching and freelancing. She also has a passion for playing lawn bowls. The instrument Janet plays is a Pellegrina viola made by David Rivinus in Oregon USA. It was made in 2003. More information about the design can be found at www.rivinus-instruments.com

Brett Rutherford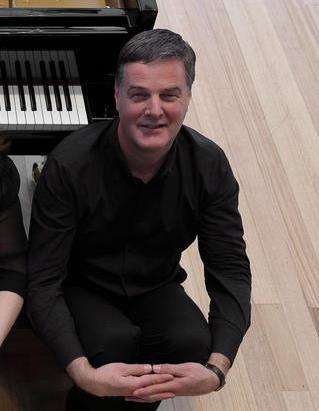 Brett Rutherford began his study of the cello at the N.S.W. conservatorium of Music with John Painter and then later with Barbara Woolley for more extensive study. In 1981 Brett joined the Sydney Elizabethan Orchestra (now AOBO). In 1984 Brett with his wife Janet travelled to London to spend a year of study. During this time Brett studied with Alexander Baillie and William Pleeth. On returning to Australia, Brett joined the Tasmanian Symphony Orchestra.
Since then Brett has also played with Tasmanian Symphony Chamber Players, Virtuosi Tasmania, and, with the Trigon Ensemble, has performed for ABC-FM and ABC television, as well as concerts around Australia. Brett retired from the TSO in 2017 but continues a busy teaching and chamber music schedule. Brett is a founding member of The Kettering Piano Quartet and also plays the viola da gamba in the early music group, Sequenza.


---